Car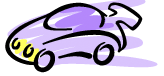 Obviously one of the most necessary luxuries of our time is the automobile. There are so many makes and models to choose from and so many things to consider. The first consideration for most consumers is usually a price range. You can spend anywhere from $9000 to over $100,000 for a brand new vehicle. Used cars are sometimes a better deal price wise, but your main concern will be the function and reliability of the automobile.
There are many sites on the Internet that you can visit to help you make your decision. Comfort and style can be very important since you may spend a large amount of time in your car. Be sure to check with others about their experiences with different types of vehicles and dealers. They are usually your best source of information.
Websites dealing in New and Used Cars
There are a vast number of websites dealing with cars. Here are some very useful sites to use when searching for new or used cars. These sites will help you research makes, models and give you special tips on buying. You can check auto pricing, dealer incentives, reviews, ratings, and some car insurance information.


www.carbuyingtips.com/
www.edmunds.com/
www.auto.com/
www.cars.com/
www.consumerreports.org/main/home.jsp
www.jdpower.com/
www.carpoint.msn.com/homepage

If you are considering a used car, be sure to check the real value of the car as listed in the Kelly color2 Book http://www.kbb.com/ and the vehicle history reports at http://www.carfax.com/. The color2 book price is negotiable - it simply gives you a frame of reference of a car's value based on the age of the car and mileage. Carfax is a must when buying a used vehicle to ensure you're not buying a vehicle with a troubled history.
Buying Options – Finance or Lease


Leasing has exploded in popularity in the last few years. Yet, many consumers don't understand how leasing really works. Leasing is more like renting a car. Go to this site to see if leasing is right for you - http://www.leaseguide.com/
Most consumers cannot afford to pay outright for a vehicle, so many opt to Finance a loan either through the car dealer or through their bank. Often a buyer will have greater negotiating power if you decide to finance or buy outright, as opposed to leasing the vehicle. When financing a vehicle, the lending company will hold the title of the vehicle until the debt is paid off. You will be responsible for monthly payments including interest charges. Interests charges will vary. Some dealers may offer you special financing if you finance through them.

License
A person who wishes to drive a motor vehicle on public streets and highways must have a valid state driver license, a valid permit or a provisional license. Obtaining a driver's license is very essential. It not only gives you rights and permissions to drive but also acts as a Personal Identification Card. In your day-to-day activity this will become an official identity license and be termed as your Photo Id. In most cases you would be asked to show your driver's license for identification.
If you have an IDP (International Driving Permit), it is valid for only a few months.
Driver's licenses in the US are regulated by the state, and each state has its own rules and regulations. In general, if you pass the tests set up by your State DMV (Department of Motor Vehicles), you get your license.
The usual requirements are -
• You must be a certain age
• You must pass a vision test
• You must pass a written test about the laws of the state
• You might be required to pass a road-driving test.

To go over the driving regulations in your state, collect a copy of the state DMV driver's manual. This can be collected from your local DMV office. Our HR representative would also be able to help you get a manual.
Your local Driving Schools can help you learn the traffic rules, traffic etiquette and car driving. They can also assist you in obtaining the licenses. They are well acquainted with the State driving rules and regulations. Browse your local yellow pages to locate a driving school in the neighborhood. Call them and find out how they can help you, their charges and responsibility, etc. Acknowledge your instructor with your past driving capabilities, if any. There is an hourly charge for each class taken.
For more information, visit:

Registration
New Jersey residents must register their vehicles before driving on public roads. This can be done at your local Division of Motor Vehicle Services (DMV). To find a DMV near you, visit: http://cache.cow.net/~friedman/dmv.html. This page provides links to all of the government agencies, which register motor vehicles in the U.S., Canada, the United Kingdom, Australia, New Zealand, Singapore and South Africa, which maintain sites on the web. When purchasing or leasing a vehicle, the dealer will normally do the preliminary registration. When driving, you must retain the vehicle's valid registration with you at all times. DMV mails renewal notices before the annual registration expires. Registration can be renewed by mail, on the phone or online. The new registration will be mailed to you within two weeks.

Car Insurance


Car insurance is required in every state. Please speak with an insurance agent to review your specific needs. There are many types of coverage; a brief explanation of each type is below. If you are financing the purchase of a car, the lending company or Bank may require that you carry "full coverage" on the vehicle until you pay off the car loan. Refer to the terms of the
loan, which will define what types of coverage you must carry during the term of the loan. The annual premium will be greater when you have "full coverage" on the car as opposed to just liability coverage. You may drop down to minimum insurance coverage after your loan is paid off.


Liability

provides protection against financial loss when you are held responsible for injury or damage as the result of an accident.


Uninsured/Underinsured Motorist

provides you with bodily injury and property damage coverage when you are in an accident with an uninsured driver who is at fault, or if you are struck by a hit and run driver.


Personal Injury Protection

pays benefits to you and relatives in your household. The benefits generally include medical expense, work loss, essential services, and funeral expenses.


Comprehensive Coverage

pays for losses from any cause other than collision. A deductible generally applies except in losses caused by fire or lightning.

Specified Causes of Loss (FTCAC)

provides for the perils of fire, theft, flood, riot, vandalism, civil commotion, windstorm, hail, earthquake, lightning, and mischief.


Collision Coverage

pays for losses caused by collision with another object or if the auto overturns. A deductible generally applies.


Non-Owned Automobile

provides you with liability coverage when someone else, particularly an employee, uses his or her automobile for business purposes.


Hired Auto

provides you with liability coverage when using a leased or rented vehicle.
To find out more about companies offering car insurance, visit the following websites.


Inspection
All gasoline-fueled cars, motorcycles and trucks registered in New Jersey must pass state safety and emissions inspections every two years at a state inspection station or a private state-licensed garage. After passing, a DMV licensed inspector will place a sticker in the lower left corner of the windshield that shows the expiration date. No other sticker can appear in the left corner of the windshield unless approved by the DMV Director.
Further information can be found at the Division of Motor Vehicle (DMV) website:
http://www.state.nj.us/mvs/
Ensure that you possess your license, registration and insurance card at all times while driving the car. You will need to show these documents when going through inspection, if you are involved in an accident or are pulled over by a police officer. You can be summoned and/or have the vehicle impounded, if you fail to present a valid drivers license, valid registration and insurance on the vehicle you are operating and/or have an invalid inspection sticker.

American Automobile Association (AAA)


An annual membership to the AAA service offers more than just roadside assistance it can assist you with various Automotive, Travel and Financial needs. Check out the website for more information at http://www.aaa.com.